Back On Stage Software Features
The biggest problem to managing any band or event is that there are too many moving parts to keep track of. On top of that you are using an app to wrangle musicians, but another to pay them. You make contracts with an app, yet use another to handle invoices. There's an app for setlists, but again, another just to store all your sheet music. And what about the pile of spreadsheets you need to decipher?
This Band Management App is packed to the brim with features that will rock your world and help you streamline all aspects of management into ONE single platform. Back On Stage is the one-stop solution to artist management.
Enjoy your free time and money! Get out of the Office, and get Back On Stage!
---
Automate EVERYTHING
You will never have to to do any of these again!
Management:
✓ Book Musicians
✓ Create & Share Gig Details
✓ File Sharing
✓ Transfer Payments
✓ Delegate Tasking
✓ Group Chats
✓ Create Musician Invoice
✓ Track Income/Expenses
✓ Google Calendar Integration
✓ Social Media Post Scheduling
Client Care:
✓ Customer Info Auto-Fill
✓ Client Follow-Up
✓ Track Email Threads
✓ Create Client Contract
✓ Create Client Invoice
✓ Signature Follow-Up
✓ Client Invoices Follow-Up
✓ Client Payments Follow-Up
✓ Manage Client Profile
✓ Customer Tipping Option
Music Library:
✓ Upload Individual Music PDFs
✓ Edit Instrument Parts
✓ Create Smart Setlists
✓ Distribute and Organize Setlists
✓ Share Notes, PDFs, Video & MP3
✓ Send Parts to Each Musician
✓ Calculate Setlist Duration
✓ Find Keys, Tempo & Metronome
✓ Assign Lead Singers
✓ Smart Music Distribution
---
Check out these AMAZING tools!
Auto-Book Musicians
BOS contacts the musicians, book them, pay them and generate invoices automatically. Edit your team and calling list with ease. Booking is now a "set-and-forget".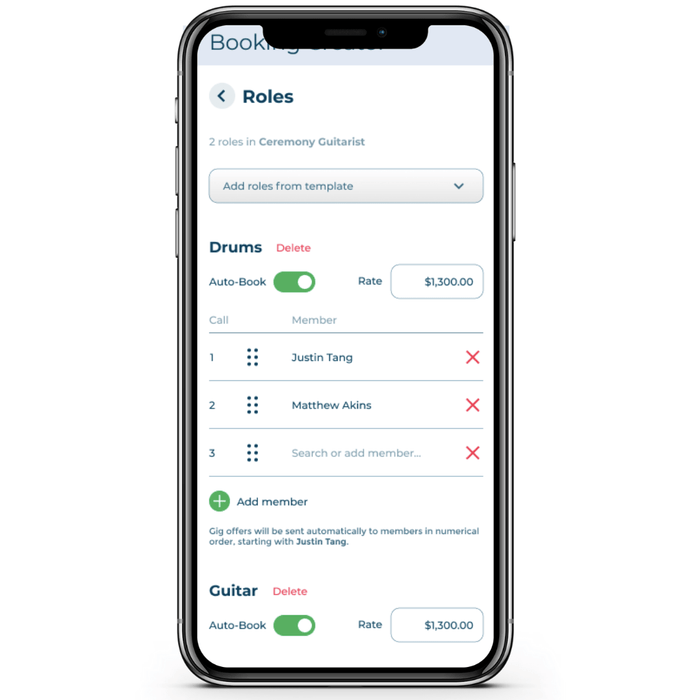 Auto-Pay & Auto-Invoice
Through PayPal secure payments, BOS seamlessly pay musicians after the gig. You determine exactly when and how much. Rest assured that payments are taken care of on time EVERY TIME!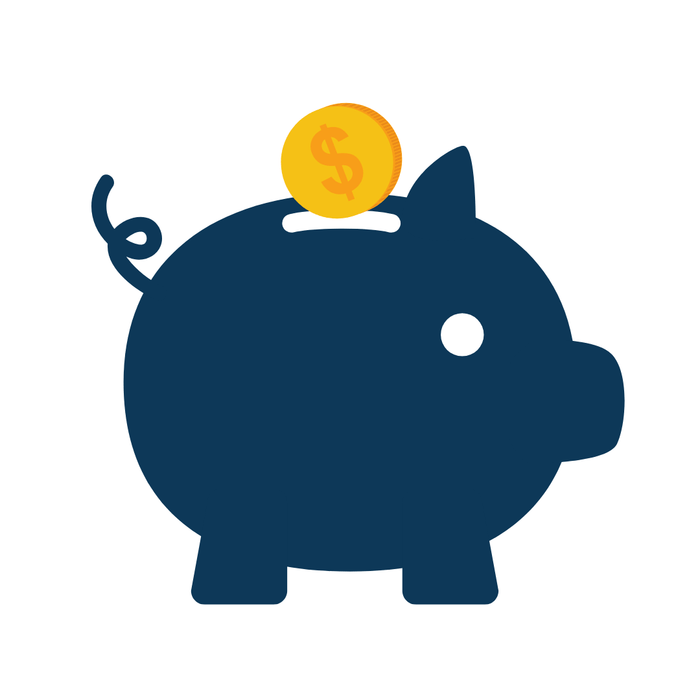 Organized Display
Keeping everything you need to know under one roof, our calendar and booking view display allows you to find any detailed information at a glance.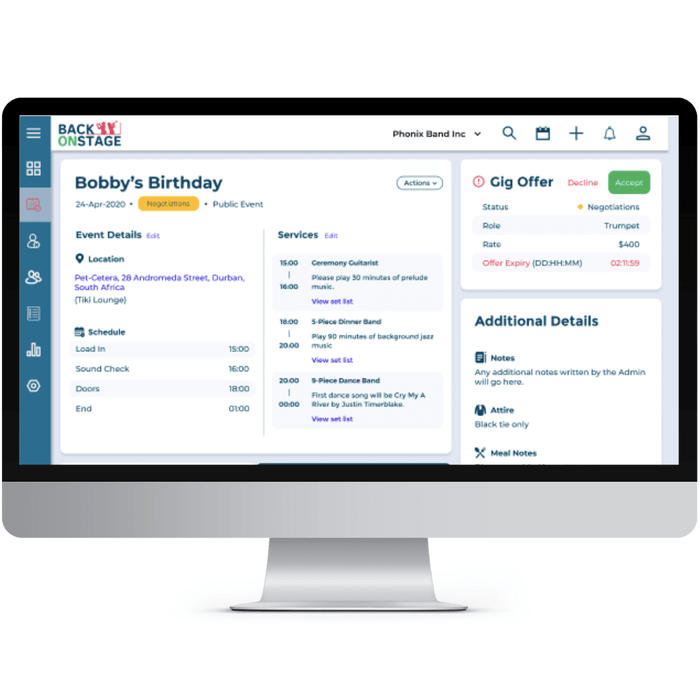 The Missing Piece
The BOS band booking software is the missing piece that connects all that you do as a bandleader! With 8 CRM (customer relationship management) and 11 band management tools helping you, BOS will ensure that you never miss a call, email, or contact ever again! Imagine being able to capture leads, interact with clients, manage your bookings, and handle payments all from a SINGLE dashboard.
"The Phonix Band was at capacity managing 56 bookings per year until we started using Back On Stage. Now we can easily book three to five times more gigs. That's almost 5 gigs per week." ~ Reuben Avery, Bandleader for The Phonix
Lead Capture
Make your clients do all the work for you! BOS uses your client's answers to generate contracts/invoices, and trigger Auto-Follow Up sequence.
Email Management
No need to sift through old emails to find what your clients said 6 months ago! BOS organizes all your email exchanges into respective bookings so you will have a thorough history of the dialogue.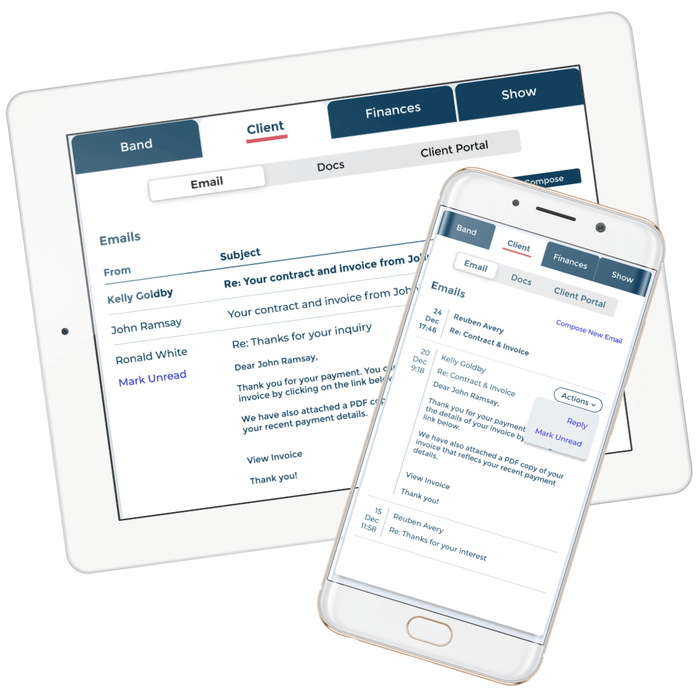 The Client Portal
BOS creates a link for each client giving them access to the most up-to-date invoice and contract. Clients can make payments (and tips!!) at their convenience.
---
Unlimited Storage
BOS lets you pull up emails, files, questionnaires, invoices, and contracts from a single client tab — everything you need to manage your band and events is right in your hand. Yes, this includes your entire PDF sheet music library too!
Track Finance
Built-in Finance Tools lets you track income and expenses, process payments, receive customer deposits, and manage your finances in realtime. Bookkeeping has never been so easy.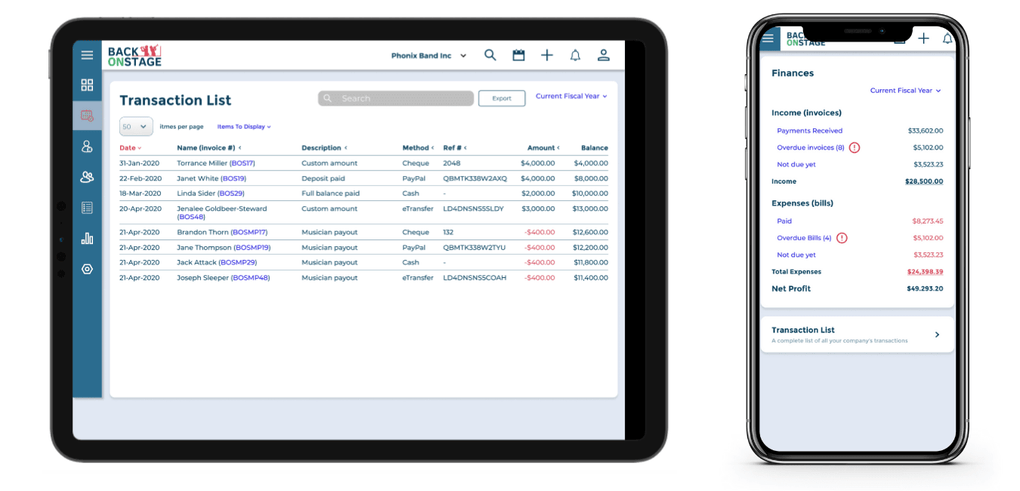 Private Chat & Shared Tasks
Assign tasks to your bandmates or for yourself. Never forget to learn that song or send the contract. Messages will only display to the people booked for that gig, reducing clutter.
Social Media Post Scheduling
Set up posts in advance and get the word out to your fans for your next event. Connect to your band's social media accounts and blast out gig promos with the click of a button. You can even add a guest list!
With BOS Helping You With EVERYTHING
How are you going to spend all the regained free time and money?
Go fishing? Practice? Get more gigs? Spend time with family?
But wait... there's more!
⬇
Introducing
The Revolutionary Repertoire Features
Entire Sheet Music Library at Your Fingertips
Repertoire Feature replaces all other apps you use to put together your setlist.